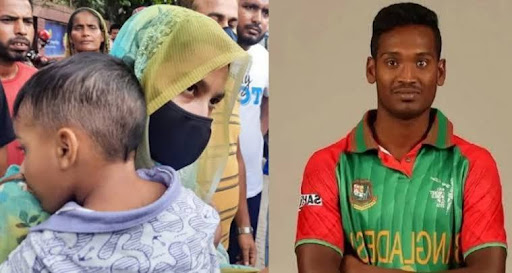 Cricketer Al Amin's wife files another case against him
Cricketer Al Amin's wife files another case against him
Bangladesh national team cricketer Al Amin and his wife Israt Jahan's marital discord is not resolved. His wife Israt Jahan filed a case against Al Amin to regain the right to conjugal life. The matter was confirmed by the plaintiff's lawyer Shamsuzzaman.
Israt filed a case in the first assistant judge court of Dhaka. Judge Begum Kaniz Tanya Rupa took cognizance of the case and ruled in favor of the plaintiffs.
According to the allegations in the case, cricketer Al Amin is addicted to extra marital relationship. For the last two years, he does not take care of his wife and children, nor does he provide maintenance. This cricketer also said that he will not have a family with a woman by sending a picture to Israt.
The case also states that Al Amin also gave his wife a unilateral divorce against the ill will of her parents, which is not valid in court. However, after the divorce, his wife tried to contact him but failed. So, in this situation she filed a case to continue the married life.
It should be noted that Al Amin's wife had filed a case against Al Amin on September 1 accusing that he (Al Amin)  demanded for dowry.
Former Bangladesh national team cricketer Al-Amin Hossain's wife, Ishrat Jahan, on Thursday filed a torture complaint against him at Mirpur Model Thana, confirmed officer-in-charge Mustazirur Rahman. 
'She [Al-Amin's spouse] didn't file any case but she lodged a complaint for persecution against him,' Mustazirur told New Age.  
Earlier in the day, Ishrat told the media that she had been tortured physically by Al-Amin on August 25 and that forced her to lodge a complaint against him, adding that she wanted to carry on her conjugal life with Al-Amin. 
Meanwhile, Al-Amin denied the allegation while talking to New Age. 
'I didn't persecute my wife. All that you know is a lie. See, there may be a lot of things in someone's conjugal life. My wife is sitting in front of me. We are okay. Hope you would take the thing normally,' said Al-Amin.