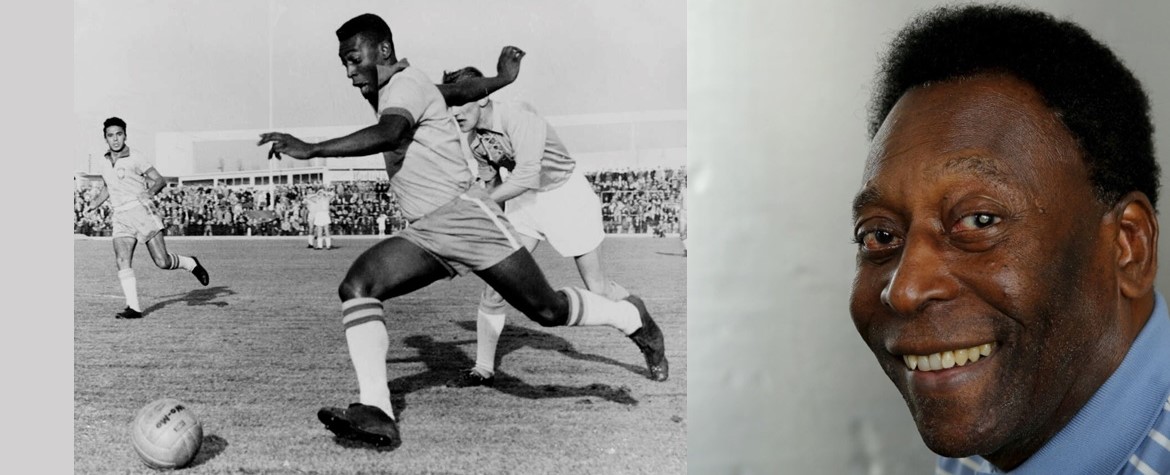 Brazilian great Pele passes away at age 82
After a battle with cancer, Pele—the only player in history to win three World Cups—died at the Albert Einstein medical center on 29 December 2022 in Sao Paulo. After winning the World Cup in 1958 at the age of 17, scoring twice in the championship match to overcome the hosts Sweden, he rose to fame as an icon of the sport.
Football legend Pele passes away at age 82
Pele, a Brazilian football legend and one of the game's all-time best players, died at the age of 82.
Pele who became the first player in history to win three World Cups, passed away at the Albert Einstein hospital in Sao Paulo after a battle with cancer.
The former striker is one of Brazil's all-time best goal scorers with 77 goals in 92 games. He gained fame after Brazil, then 17 years old, won the 1958 World Cup by defeating Sweden in the championship match with two goals.
Pele's official Twitter account featured a message that said, "Inspiration and love marked the journey of King Pelé, who peacefully passed away today. Love, love and love, forever."
Kely Nascimento, Pele's daughter, posted on Instagram from the hospital with updates on her father's condition. "Everything we are is thanks to you. We love you infinitely. Rest in peace."
The Brazilian government has declared 3 days of national mourning for Pele.
Pele's formal name was Edson Arantes do Nascimento. He was raised in poverty in Sao Paulo, helped Brazil win the World Cups in 1958, 1962, and 1970.
His involvement in Brazil's win in Chile in 1962 was interrupted by injury. However, Pele won the award for best player eight years later, when Brazil put together one of the greatest teams in history and won the Jules Rimet trophy in Mexico courtesy to a 4-1 victory over Italy in which he scored the game's first goal.
Pele is now one of only five players to have scored in two World Cup finals. Additionally, thanks to his heroics in 1958, he continues to hold the record for the youngest player to have scored at the competition.
Pele scored the most by any player in the history of the tournament. His combined 12 goals and 10 assists in 14 World Cup games served as a reminder that he was much more than just a goal scorer.
But it was Pele's remarkable scoring performances that cemented his status as a club icon for Santos.
During a brilliant 18-year career with the club, Pele set the all-time goal-scoring record for his local team. He led them to two Copa Libertadores championships and six Brazilian league victories.
The football legend finished his playing career at New York Cosmos. He gave up football in 1977 after amassing 1,281 goals in 1,363 games for club and country.
Pele served as a football ambassador after retiring. The FIFA Ballon d'Or Prix d'Honneur was given to him in 2013 in honour of his career and accomplishments. He was included in the Ballon d'Or Dream Team, an all-time best XI, in 2020.
Neymar pays his tribute to Brazilian legend Pele touches hearts of many
Neymar, who ranks alongside Pele as Brazil's joint-leading scorer in men's international football, paid an emotional tribute to his hero after his passing. Neymar plays for Brazil as the No. 10 and began his career with Santos, posted on Instagram.
"Before Pelé, 10, was just a number. I've read this phrase somewhere, at some point in my life. But this sentence, beautiful, is incomplete."
"I would say before Pelé football was just a sport. Pelé has changed it all. He turned football into art, into entertainment."
"He gave voice to the poor, to black people, and especially: he gave visibility to Brazil. Soccer and Brazil have raised their status thanks to the King! He's gone but his magic remains. Pelé is forever."
Follow our website for more football news
Here at Jeetbuzz, we are dedicated to bringing the latest football news to you. Follow our website for more sports news.