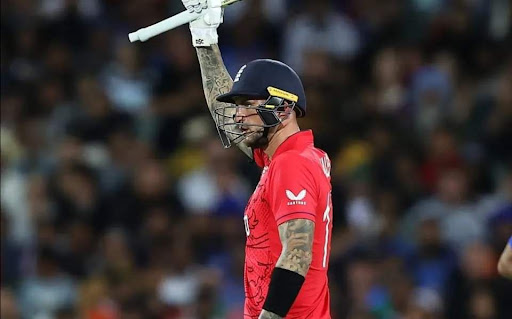 11/14 I didn't think I would play the World Cup again for England: Hales
I didn't think I would play the World Cup again for England: Hales
Who knew that the two cricketers of England will break the dreams of 140 million Indians in Adelaide in just 2 hours! Virat Kohli, Rohit Sharma were simply blown away by Jos Buttler and Alex Hales. Chasing the target of 169 runs set by India in the semi-final match on Thursday, England won by 10 wickets.
Hales played a devastating innings of 86 runs off 47 balls in this match. Cricket Score: The English opener arranged the match-winning innings with 4 fours and 7 sixes. 80 off 49 balls came from his partner Buttler's bat. So, the man of the match award went to Hales. But when he came to receive the award, he said that he did not think about playing in the World Cup.
After the match, an elated Hales said, "It's a great occasion. An innings like that against India in the World Cup semi-final is really a pleasure. The way I played, it's definitely a special innings. Adelaide is a great ground to bat. Great wicket. I have good memories here. I enjoy batting here."
Hales added, "I never thought I would play in the World Cup again. It was a special feeling to get the chance. I love playing cricket. Tonight (on the match day) was one of the best nights of my career."
It should be noted that in 2019, Hales was ruled out of the ODI World Cup due to taking drugs. But due to Jonny Bairstow's injury, he got another chance. England will also be looking at Hales' bat in the final against Pakistan.