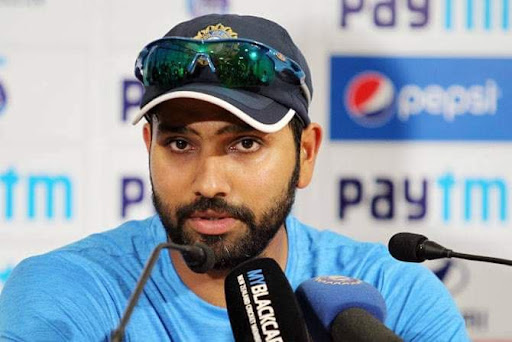 11/14 India's elimination from the World Cup, Rohit blamed the bowlers
India's elimination from the World Cup, Rohit blamed the bowlers
India goes to Australia with the goal of winning the World Cup. But it didn't happen. Rohit Sharma-Virat Kohli were knocked out of the tournament by a huge 10-wicket loss to England in the second semi-final on Thursday. And the Indian captain could not hold himself in that. After burst into tears, Rohit blamed the bowlers for this loss.
"Bhuvneshwar Kumar's first over didn't go well," Rohit said at the post-match press conference. "Our plan was to bowl in good places. We were trying not to let the England batsmen hit. We were careful on both sides of the wicket. Through where a lot of runs come. If the runs come from good ball, then nothing could be done. But we didn't bowl well."
However, Rohit has no complaints about batting. He also said, "This loss is very disappointing. I think we batted well. Especially at the end of the innings, we batted well. In fact, we did not bowl well. The wicket was also not such that the opponent would reach the target in just 16 overs."
Rohit also won the group stage match, which was very close, against Bangladesh in Adelaide. In that match, however, they took away the victory after handling the pressure. But the dream of winning the World Cup was shattered by losing to England. After the match, the Indian captain said, "The cricketers of the team could not handle the stress of the match against England. That's why we lost".
Former India batter Hemang Badani, in an exclusive chat with the Hindustan Times ahead of the Bangladesh ODIs, which will mark the return of Rohit, Kohli and Rahul, spoke about the need to have different teams for T20Is, ODIs and Tests.
Indian cricket had never seen seven different captains in a year before 2022. In fact, apart from Sri Lanka in 2017, no other team has. Sri Lanka's seven-captain year in 2017 was under vastly different circumstances. They were searching for their next leader and had no option but to try out different options as the team struggled to get the desired results.
For India, there were no such doubts. Rohit Sharma has been the all-format captain since February this year. But the opener has hardly led India in all formats. Out of India's seven ODI series since the change of guard from Virat Kohli to Rohit Sharma, the latter has played in only two. He missed four due to workload management and one in South Africa, because of an injury. Either KL Rahul or Shikhar Dhawan stepped in to lead India in Rohit's absence.
It's not like Rohit was the only player taking breaks to stay fresh for the T20 World Cup. Virat Kohli, KL Rahul, Jasprit Bumrah, and Ravindra Jadeja were also on the list of BCCI's workload management. But being the captain, shouldn't Rohit have played more? Did he have an option? Former India cricketer Hemang Badani thinks he didn't as it is "practically impossible" for someone to play in every series.
"With the World Cup coming and with us still at a phase where we aren't clear about our side, we necessarily have to try out a lot more players. Yes, to a large extent it does help to have the same captain in all formats but it's practically impossible for Rohit Sharma to be able to play and sustain in every series. They will have to find the right balance but it's not possible for Rohit to play every series, that's not gonna happen. That is going to be the way forward.