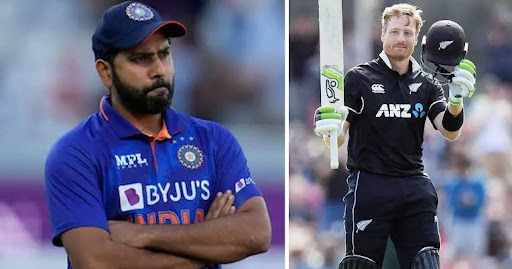 Guptill surpasses Rohit Sharma to set world record
Due to ICC's busy cricket schedule, every team is resting their star players to keep them fresh. For example, Indian captain Rohit Sharma is not on the tour of Zimbabwe. India's strategy is mainly to get Rohit fresh in the Asia Cup. New Zealand's star cricketer Martin Guptill surpassed the rested Rohit.
Indian captain Rohit Sharma and New Zealand's star opener Martin Guptill have been fighting for the top run scorer spot in T20 International for a long time.
Guptill scored 15 runs off 13 balls in the third and final T20 of the series against the West Indies in Kingston. And with this run, Guptill set the record for highest runs in international T20 by leaving behind the Indian captain.
However, he played less innings than Rohit Sharma to achieve this feat. Guptill is at the top with 3,497 runs in 121 matches, with 2 centuries and 20 fifties. Rohit is in the second position with 3,487 runs with the help of four centuries and 27 fifties in 132 matches. Meanwhile, former Indian captain Virat Kohli is in the third place with 3,308 runs in 30 fifties in 99 matches.
But how much Guptill himself enjoyed record-setting match is a question. On that day, his team New Zealand lost them match. New Zealand scored 145 runs against West Indies for 7 wickets. In reply, the host West Indies won by 8 wickets with 6 balls in hand.
With this win, the hosts made the series 2-1 in the three-match series. New Zealand already confirmed the series by winning the first two matches. After this world record of Guptill, many people sent him greetings. But Rohit has not said anything about this yet.