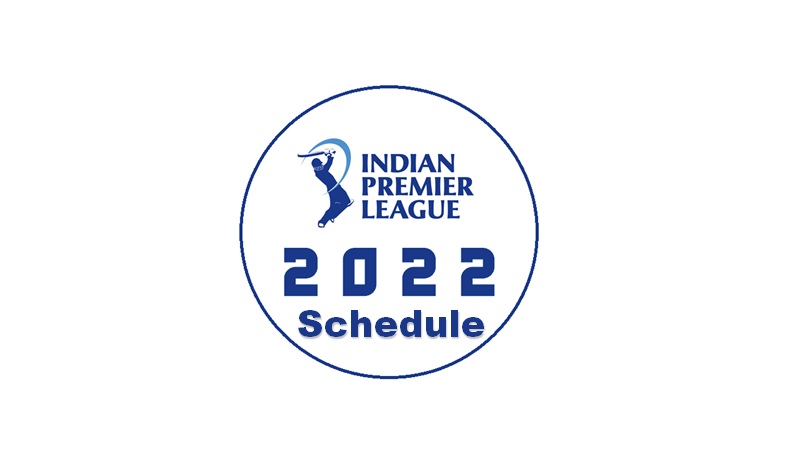 BCCI release TATA IPL 2022 schedule
The BCCI has released the TATA IPL 2022 schedule, which will be staged in Mumbai and Pune. Ten teams will compete for the ultimate prize for 70 league games, and 4 playoff games will be played over 65 days. The 15th season of IPL will kick off on March 26 at Wankhede Stadium with a thrilling match between the defending champions Chennai Super Kings and Kolkata Knight Riders. 
According to the IPL 2022 schedule, the league will have its maiden double-header on March 27, beginning with a Day game at Brabourne between the Delhi Capitals and Mumbai Indians. The night match between Punjab Kings and Royal Challengers Bangalore will occur at the DY Patil Stadium. Thanks to the arrival of two additional teamsin the IPl 2022, there will be many double-header days this season, which will increase the number of games.
Sunrisers Hyderabad will face Rajasthan Royals in the inaugural game at the MCA Stadium in Pune on March 29. Wankhede Stadium and DY Patil Stadium will host 20 matches apiece, while Brabourne and MCA International Stadium in Pune will host 15 matches each. There will be a total of 12 double-headers, with the opening match beginning at 15:30 IST/ 16:00 BDT. At 19:30 IST/ 20:00 BDT, all evening matches will begin.
This year's matches will be played in a new format, with the BCCI abandoning the former structure of each team facing each other twice in the league round. Based on the number of titles won and the finals contested, ten teams are separated into two groups, A and B.
IPL 2022 Groups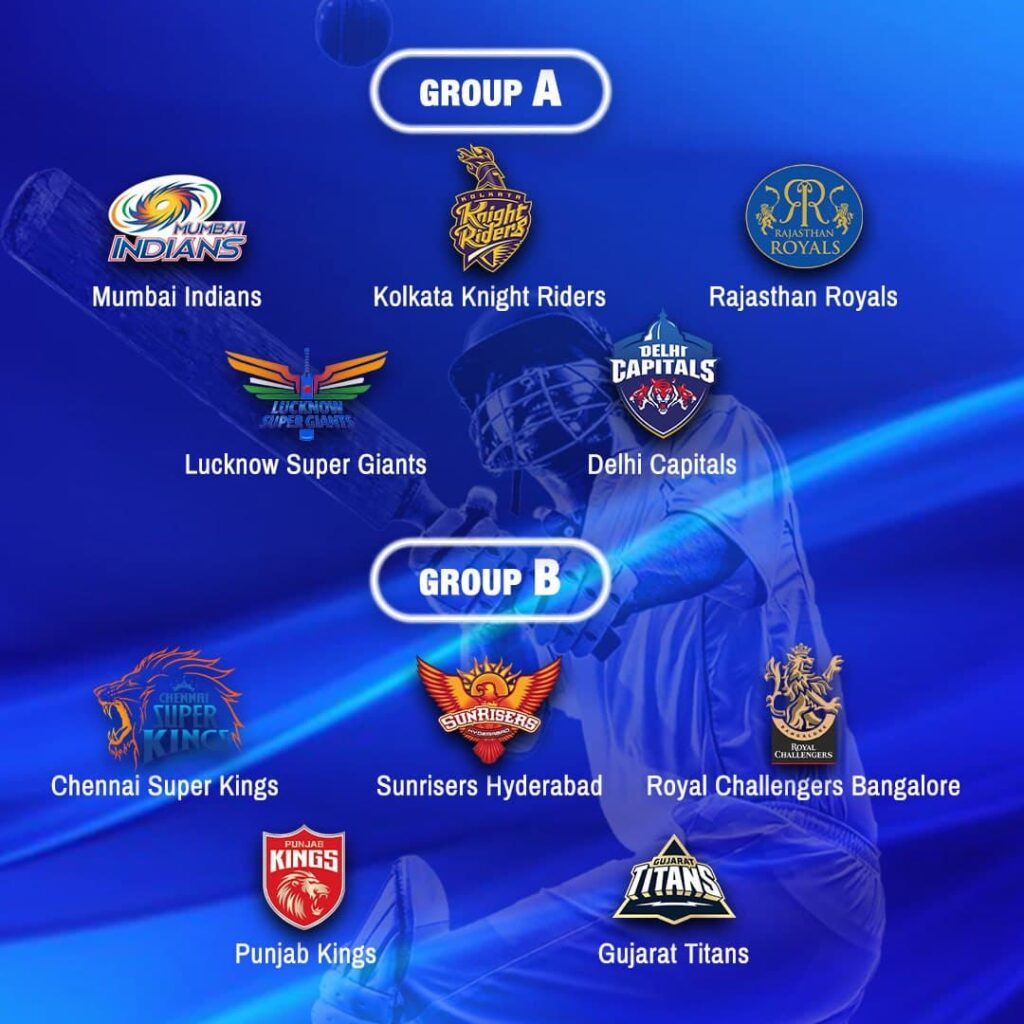 Accordingly, Group A comprises new entrants Lucknow Super Giants, Mumbai Indians, Kolkata Knight Riders, Rajasthan Royals and Delhi Capitals. The other five teams, including new entrants Gujarat Titans, Chennai Super Kings, Royal Challengers Bangalore, Punjab Kings, and Sunrisers Hyderabad, will be in Group B.
Only 25% spectators allow in the IPL 
During the IPL, the Maharashtra government has also decided to allow 25% of spectators to attend all league matches. The location for the playoffs has yet to be determined, and the IPL 2022 schedule  for playoffs has yet to be revealed.
TATA IPL 2022 schedule:
| | | | | | | |
| --- | --- | --- | --- | --- | --- | --- |
| Match | Day | Date | Match | Time (IST) | Time (BDT) | Venue |
| 1 | Sat | 26 Mar  | CSK vs KKR | 19:30 | 20:00 | Wankhede Stadium |
| 2 | Sun | 27 Mar  | DC vs MI | 15:30 | 16:00 | Brabourne – CCI |
| 3 | Sun | 27 Mar  | PBKS vs RCB | 19:30 | 20:00 | DY Patil Stadium |
| 4 | Mon | 28 Mar  | GT vs LSG | 19:30 | 20:00 | Wankhede Stadium |
| 5 | Tue | 29 Mar  | SRH vs RR | 19:30 | 20:00 | MCA Stadium, Pune |
| 6 | Wed | 30 Mar  | RCB vs KKR | 19:30 | 20:00 | DY Patil Stadium |
| 7 | Thu | 31 Mar  | LSG vs CSK | 19:30 | 20:00 | Brabourne – CCI |
| 8 | Fri | 1 Apr  | KKR vs PBKS | 19:30 | 20:00 | Wankhede Stadium |
| 9 | Sat | 2 Apr  | MI vs RR | 15:30 | 16:00 | DY Patil Stadium |
| 10 | Sat | 2 Apr  | GT vs DC | 19:30 | 20:00 | MCA Stadium, Pune |
| 11 | Sun | 3 Apr  | CSK vs PBKS | 19:30 | 20:00 | Brabourne – CCI |
| 12 | Mon | 4 Apr  | SRH vs LSG | 19:30 | 20:00 | DY Patil Stadium |
| 13 | Tue | 5 Apr  | RR vs RCB | 19:30 | 20:00 | Wankhede Stadium |
| 14 | Wed | 6 Apr  | KKR vs MI | 19:30 | 20:00 | MCA Stadium, Pune |
| 15 | Thu | 7 Apr  | LSG vs DC | 19:30 | 20:00 | DY Patil Stadium |
| 16 | Fri | 8 Apr  | PBKS vs GT | 19:30 | 20:00 | Brabourne – CCI |
| 17 | Sat | 9 Apr  | CSK vs SRH | 15:30 | 16:00 | DY Patil Stadium |
| 18 | Sat | 9 Apr  | RCB vs MI | 19:30 | 20:00 | MCA Stadium, Pune |
| 19 | Sun | 10 Apr  | KKR vs DC | 15:30 | 16:00 | Brabourne – CCI |
| 20 | Sun | 10 Apr  | RR vs LSG | 19:30 | 20:00 | Wankhede Stadium |
| 21 | Mon | 11 Apr  | SRH vs GT | 19:30 | 20:00 | DY Patil Stadium |
| 22 | Tue | 12 Apr  | CSK vs RCB | 19:30 | 20:00 | DY Patil Stadium |
| 23 | Wed | 13 Apr  | MI vs PBKS | 19:30 | 20:00 | MCA Stadium, Pune |
| 24 | Thu | 14 Apr  | RR vs GT | 19:30 | 20:00 | DY Patil Stadium |
| 25 | Fri | 15 Apr  | SRH vs KKR | 19:30 | 20:00 | Brabourne – CCI |
| 26 | Sat | 16 Apr  | MI vs LSG | 15:30 | 16:00 | Brabourne – CCI |
| 27 | Sat | 16 Apr  | DC vs RCB | 19:30 | 20:00 | Wankhede Stadium |
| 28 | Sun | 17 Apr  | PBKS vs SRH | 15:30 | 16:00 | Brabourne – CCI |
| 29 | Sun | 17 Apr  | GT vs CSK | 19:30 | 20:00 | MCA Stadium, Pune |
| 30 | Mon | 18 Apr  | RR vs KKR | 19:30 | 20:00 | Brabourne – CCI |
| 31 | Tue | 19 Apr  | LSG vs RCB | 19:30 | 20:00 | DY Patil Stadium |
| 32 | Wed | 20 Apr  | DC vs PBKS | 19:30 | 20:00 | MCA Stadium, Pune |
| 33 | Thu | 21 Apr  | MI vs CSK | 19:30 | 20:00 | DY Patil Stadium |
| 34 | Fri | 22 Apr  | DC vs RR | 19:30 | 20:00 | MCA Stadium, Pune |
| 35 | Sat | 23 Apr  | KKR vs GJ | 15:30 | 16:00 | DY Patil Stadium |
| 36 | Sat | 23 Apr  | RCB vs SRH | 19:30 | 20:00 | Brabourne – CCI |
| 37 | Sun | 24 Apr  | LSG vs MI | 19:30 | 20:00 | Wankhede Stadium |
| 38 | Mon | 25 Apr  | PBKS vs CSK | 19:30 | 20:00 | Wankhede Stadium |
| 39 | Tue | 26 Apr  | RCB vs RR | 19:30 | 20:00 | MCA Stadium, Pune |
| 40 | Wed | 27 Apr  | GT vs SRH | 19:30 | 20:00 | Wankhede Stadium |
| 41 | Thu | 28 Apr  | DC vs KKR | 19:30 | 20:00 | Wankhede Stadium |
| 42 | Fri | 29 Apr  | PBKS vs LSG | 19:30 | 20:00 | MCA Stadium, Pune |
| 43 | Sat | 30 Apr  | GT vs RCB | 15:30 | 16:00 | Brabourne – CCI |
| 44 | Sat | 30 Apr  | RR vs MI | 19:30 | 20:00 | DY Patil Stadium |
| 45 | Sun | 1 May  | DC vs LSG | 15:30 | 16:00 | Wankhede Stadium |
| 46 | Sun | 1 May  | SRH vs CSK | 19:30 | 20:00 | MCA Stadium, Pune |
| 47 | Mon | 2 May  | KKR vs RR | 19:30 | 20:00 | Wankhede Stadium |
| 48 | Tue | 3 May  | GT vs PBKS | 19:30 | 20:00 | DY Patil Stadium |
| 49 | Wed | 4 May  | RCB vs CSK | 19:30 | 20:00 | MCA Stadium, Pune |
| 50 | Thu | 5 May  | DC vs SRH | 19:30 | 20:00 | Brabourne – CCI |
| 51 | Fri | 6 May  | GT vs MI | 19:30 | 20:00 | Brabourne – CCI |
| 52 | Sat | 7 May  | PBKS vs RR | 15:30 | 16:00 | Wankhede Stadium |
| 53 | Sat | 7 May  | LSG vs KKR | 15:30 | 16:00 | MCA Stadium, Pune |
| 54 | Sun | 8 May  | SRH vs RCB | 15:30 | 16:00 | Wankhede Stadium |
| 55 | Sun | 8 May  | CSK vs DC | 15:30 | 16:00 | DY Patil Stadium |
| 56 | Mon | 9 May  | MI vs KKR | 19:30 | 20:00 | DY Patil Stadium |
| 57 | Tue | 10 May  | LSG vs GT | 19:30 | 20:00 | MCA Stadium, Pune |
| 58 | Wed | 11 May  | RR vs DC | 19:30 | 20:00 | DY Patil Stadium |
| 59 | Thu | 12 May  | CSK vs MI | 19:30 | 20:00 | Wankhede Stadium |
| 60 | Fri | 13 May  | RCB vs PBKS | 19:30 | 20:00 | Brabourne – CCI |
| 61 | Sat | 14 May  | KKR vs SRH | 19:30 | 20:00 | MCA Stadium, Pune |
| 62 | Sun | 15 May  | CSK vs GT | 15:30 | 16:00 | Wankhede Stadium |
| 63 | Sun | 15 May  | LSG vs RR | 19:30 | 20:00 | Brabourne – CCI |
| 64 | Mon | 16 May  | PBKS vs DC | 19:30 | 20:00 | DY Patil Stadium |
| 65 | Tue | 17 May  | MI vs SRH | 19:30 | 20:00 | Wankhede Stadium |
| 66 | Wed | 18 May  | KKR vs LSG | 19:30 | 20:00 | DY Patil Stadium |
| 67 | Thu | 19 May  | RCB vs GT | 19:30 | 20:00 | Wankhede Stadium |
| 68 | Fri | 20 May  | RR vs CSK | 19:30 | 20:00 | Brabourne – CCI |
| 69 | Sat | 21 May  | MI vs DC | 19:30 | 20:00 | Wankhede Stadium |
| 70 | Sun | 22 May  | SRH vs PBKS | 19:30 | 20:00 | Wankhede Stadium |