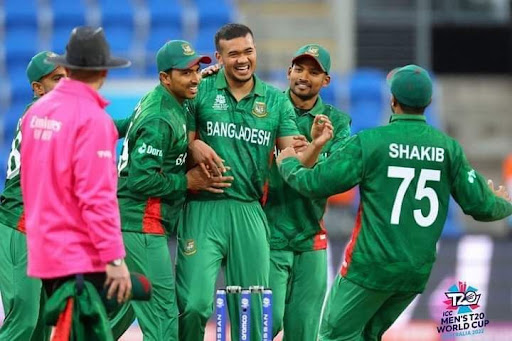 Taskin never seen such a victory
Taskin never seen such a victory
Bangladesh faced Zimbabwe at Gaba in their third T20 World Cup match. The Tigers eventually won the match full of drama. However, the players and spectators had a different experience in that match. Shakib Al Hasan and Taskin Ahmeds won twice in the same match.
Zimbabwe need 16 runs to win in the last over. At one point the equation was such that Zimbabwe would reach the port of victory only by scoring 5 runs from the last 1 ball. But as the Zimbabwean batsmen failed to score that run, Shakib celebrated the victory. But later it was known that the ball is 'no'. Though after coming down to the field again and bowling the remaining last ball, the victory goes to Bangladesh.
Taskin was thrilled to win the man-of-the-match award by taking 3 wickets at crucial moments in this match. Reacting, Taskin said, "It's the first time I've seen something like that (no ball). It was a completely different match. We enjoyed it."
"We were all nervous. It was a very good match. It was not easy for us to win. I concentrated on my bowling. Got result. Got advantage from the wicket. There was movement of the ball on the wicket. Now we have great pace attack."
Meanwhile, Bangladesh survived the race to the semi-finals by winning against Zimbabwe. After winning the first match against Netherlands, Shakib's team lost against South Africa. They returned to winning streak in the next match. As a result, the Tigers are currently struggling with 4 points from three matches.