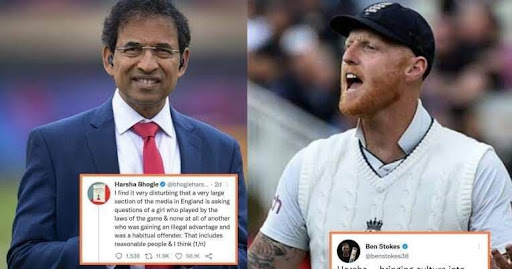 Stokes-Harsha tweet war over 'Mankading'
Stokes-Harsha tweet war over 'Mankading'
The ODI series between India-England women's cricket team at Lord's has come to an end. Arguments and war of words are still going on about Dipithi's 'mankading' in that final match. England's test captain Ben Stokes and commentator Harsha Bhogle joined this battle.
In a tweet on Twitter, Harsha wrote, " I find it very disturbing that a very large section of the media in England is asking questions of a girl who played by the laws of the game. It is a cultural thing. The English thought it was wrong to do so & because they ruled over a large part of the cricket world, they told everyone it was wrong. The colonial domination was so powerful that few questioned it. As a result, the mindset still is that what England considers wrong should be considered wrong by the rest of the cricket world. They have been vitriolic and abusive towards Deepti."
England's test captain Ben Stokes did not like Harsha's tweet.
He replied to Harsha's tweet. He wrote, " Harsha … bringing culture into people's opinion over a Mankad? 2019 WC final was over 2 years ago, I still till this day revive countless messages calling me all sorts from Indian fans, does this disturb you? Is this a culture thing?? …. absolutely not,I receive messages regarding the overthrows from people all over world,as people all over the world have made comments on the Mankad dismissal, not just people who are English. "
Mankading has been debated before. When India's star spinner Ashwin once took the help of Mankading to out a batsman, there was a storm of discussion and criticism in the cricket world. This time too, that happened around the England-India match. The 22-yard cricket war on the ground was not limited to cricket anymore. Fans are arguing against India-England on social media. This is a kind of virtual war.
However, MCC has recognized such outs as run outs. But the storm of discussion and criticism is not stopping. MCC's statement said, The MCC amended the Cricket Law this year to recognize the run-out of the batsman standing at the red striker's end. Section 41 of the Act has been replaced by Section 38 of the Act's rule of unfair play. This change will come into effect from October 1.
It should be noted that England was batting with a target of 170 runs in the last match between India and England at Lord's. Dean was on her way to victory with the last batsman Freya Davies. England needed 17 runs in the last 7 overs. On strike, there was Davies. Off-spinner Deepti Sharma bowled the third ball of the over when Dean came out from the crease. Realizing the opportunity, Deepti mankading him out. Discussion and criticism are going on over that out.