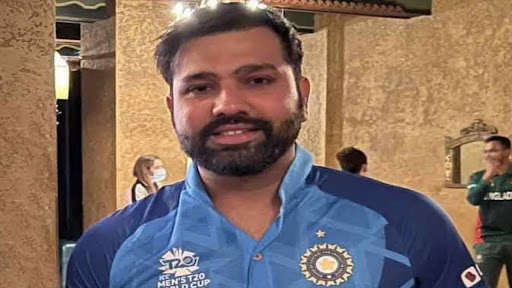 Rohit Sharma's World Cup jersey changed
Rohit Sharma's World Cup jersey changed
This year's T20 World Cup has started from October 16. The main episode of which will start on October 22. There was a change in India's jersey in the main stage. Two stars dropped from India's World Cup jersey. Which surprised the fans.
Before the World Cup, a press conference was organized with the captains of the teams participating in the competition at the ballroom of Theater Plaza in Australia last Saturday. Where the change can be noticed in the jersey of India captain Rohit Sharma. Instead of three stars, there is one star. Which surprised everyone.
The number of stars on the board logo on the jersey indicates how many World Cups that country has won. India has won three World Cups so far. Two ODIs and one T20I. The 2007 T20 World Cup champions, along with two ODIs in 1983 and 2011, are supposed to have three stars on the board logo on their jerseys. Where a star is seen.
That is, it is understood that the jersey that India will play later has only the mention of the 2007 T20 World Cup championship. Wearing this jersey, Rohit played against South Africa on the country's soil. And they will wear this jersey on the stage of the World Cup.
It should be noted that Rohit is in great form this year. Despite ultimately failing in the Asia Cup, the team is confident after winning series against Australia and South Africa at home. Team India also has the record of winning the most matches in a year. So Rohit Sharma will be desperate to win the title this year.