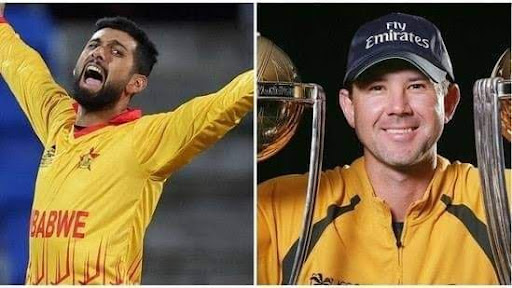 Raja reveals the secret of defeating Pakistan
Raja reveals the secret of defeating Pakistan
Zimbabwe beat Pakistan by 1 run in a thrilling World Cup T20 match on Thursday. Sikandar Raja is one of the heroes who won the match. With his controlled bowling and picking up wickets at crucial moments, Zimbabwe were able to beat Pakistan. Raja also became the man of the match.
What is the secret of Raja and his team's spirited performance against Pakistan? This all-rounder himself revealed it. Raja could not sleep the night before the match against Pakistan. He was thinking how to bat and bowl in the field the next day.
In the interview, Raja said, "On the day of the match, after I woke up, a friend of mine said, have you seen the video on the ICC page? I said, no. He said, look quickly. That video is of Ricky Ponting. He spoke very well of me and my team. Which touched us greatly."
Taking inspiration from Ponting's message, Raja added, "That created a tingle in me. One of the greatest cricketers ever said that about me, about Zimbabwe. Not that I needed any extra motivation. But that video gave me a special boost. I was excited. "
" He's 36 years of age, but he's playing with a more youthful exuberance than that. It looks like he's 26 again. He's running around in the field, enjoying himself, and leading from the front. Those players want that big moment, they want that stage, and when they get there, they're not going to let it slip and they're going to make sure they get the job done. That's what Sikandar has done so brilliantly. "
How much the video message of Australia's World Cup-winning former captain has stirred the Raja's blood, it has been felt in the cricket field. In the match against Pakistan, as Raja ruled 22 yards of the field, the whole team was energized. And all in all, Babar Azam's team was caught.