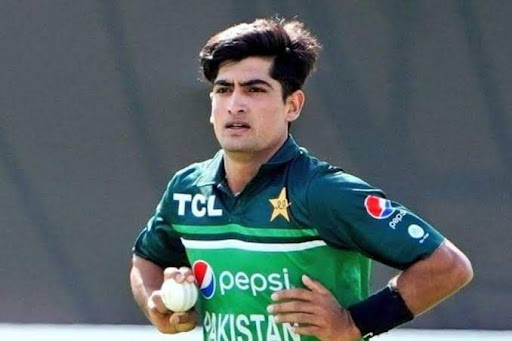 This time Naseem Shah tests positive for Covid-19
The T20 World Cup is knocking on the door. The teams are making last minute preparations before going to play on Australian soil. But bad news is coming for some sides. Indian pacer Jasprit Bumrah has been ruled out of the World Cup due to injury. This time Pakistan also got bad news.
Naseem Shah is infected with Corona. Initially taken to the hospital on suspicion of pneumonia and dengue, later the Pakistan Cricket Board (PCB) informed that this important young pacer has tested positive for Covid-19. As a result, he will not be able to play in the last two matches of the ongoing T20 series against England.
Naseem felt physically ill on Tuesday.
At that time, it is believed that he was infected with dengue or pneumonia. Naseem also had fever. Rushed to hospital. However, after going through various tests, he was found to be corona positive. After returning from the hospital and staying at the hotel, he remains isolated from everyone else.
The 7-match series between England and Pakistan will end on October 2. A day after that, Babar Azam's team will fly to New Zealand to play the tri-nation series again. However, doubts have arisen whether Naseem will go with the team on that trip or not. But in the end, he will be able to board the flight to New Zealand only if he tests negative for Covid-19.
Naseem has spread light with the ball in this year's Asia Cup. In the group stage match, India won against Pakistan, but this pacer played brilliantly in that match. And in the match that Pakistan was losing with Afghanistan, Naseem won Pakistan by hitting sixes in two consecutive balls.