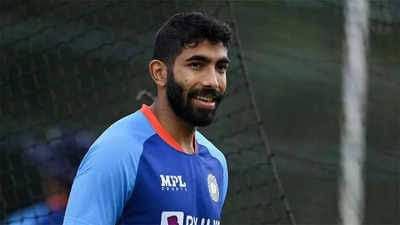 Bumrah's World Cup is over, Siraj gets call
Bumrah's World Cup is over, Siraj gets call
India received big bad news before T20 World Cup. The team will not get the team's best pacer Jasprit Bumrah in this tournament in Australia. The bad times of this star pacer are not passing.
Bumrah has been dropped from the World Cup team due to injury. According to a PTI report, Bumrah has a back injury. That's why he missed this year's Asia Cup. Another pacer Siraj has been called to the team instead of Bumrah.
Bumrah did not play in the first match of the T20 series against South Africa, who are currently touring India. Captain Rohit Sharma said that he has a minor injury. However, an official of the board told PTI, "It is not possible for Bumrah to play in the upcoming T20 World Cup. He has a serious back injury. He has to be out of the field for six months. "
Meanwhile, after missing the Asia Cup, after the rehabilitation, Bumrah returned to the field with the Australia series at home, but he was not seen in the rhythm. Other bowlers of the team lost rhythm in the death overs. This time, Bumrah's elimination will surely be a cause of great concern for the Indian team in the World Cup.
However, BCCI has already taken a new bowler instead of Bumrah. Mohammad Siraj has been included in the World Cup team.
Earlier, all-rounder Ravindra Jadeja was also eliminated from the World Cup. In this context, the board chief said, "Losing Jadeja and Bumrah is a big loss for India. I didn't think that would happen."
Bumrah's injury does not require surgery, said the board official. In this context, he said, "Now Bumrah is in the National Cricket Academy. Not having him in T20 World Cup is a big loss. But Bumrah is young, he still has a long career ahead of him. So, it is not possible to take risks with him."
Death over bowling was one of the reasons for India's failure in the last Asia Cup. Bumrah is called India's death over specialist. Losing him has left Rohit Sharma worried. Hershel Patel also did not match himself in the series against Australia. To beat Bumrah in the World Cup, Team India is going to suffer a big blow in the bowling department.