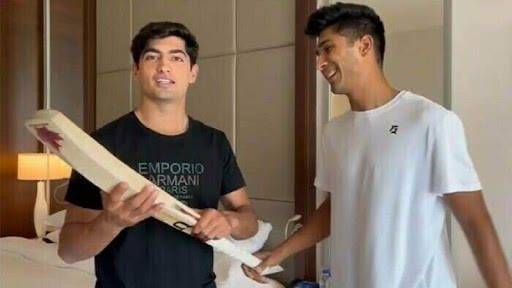 Naseem Shah gave the match-winning bat to Afridi's organization
Naseem Shah gave the match-winning bat to Afridi's organization
Pakistan was almost going to lose against Afghanistan in their second match in the Super Four of this year's Asia Cup. In the same match, sweat and blood were also seen. Pakistan won the highly contested match. Pakistan needed 11 runs to win in the last over. On the other hand, Afghans need only one wicket to win.
Pacer Fazalhaq Farooqi came to bowl the last over of the innings. Opposite him, Pakistani tailender Naseem Shah was batting. Mohammad Hasnain on non-strike. But who would have thought that the Pakistani youth will snatch the victory! Naseem did that incredible work.
In the last over, Naseem finished all calculations with the first two balls of Farooqi. Reached the team final by hitting two consecutive sixes. The emerging pacer of Pakistan plans to use the bat with which Naseem has built this feat in the difficult times of the country.
To help the flood victims of Pakistan, Naseem decided to auction his memorable bat. According to the plan, Naseem gave the bat to the charitable organization of former Pakistan captain Shahid Afridi. The organization will donate the money earned from the bat auction to the flood victims.
This has been confirmed by Naseem himself. In a video message on Twitter, the Pakistani pacer said, "This bat is very important for me. But the people of Pakistan are drowning in floods. So, I am giving this bat to Afridi Foundation. Because he is standing by the people in this difficult time.
Request to Afridi brother, come forward to help the flood victims of my area."