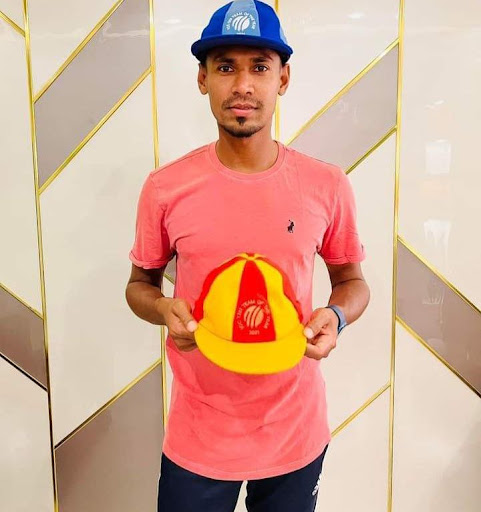 Mustafiz is excited to get the cap for 'Player of the year'
He is indispensable player of Bangladesh team. Bangladesh's pace attack revolves around him. Mustafiz is also fondly called the 'cutter master'. Now a new feather has been added to the crown of Mustafiz.
Three cricketers from Bangladesh got a place in the ICC ODI team of the year last year. Along with Shakib Al Hasan and Mushfiqur Rahim, Mustafizur Rahman's name was also there. The Bangladeshi pacer was also in the T20 team of the year. This time Mustafiz received two caps sent by ICC as his recognition.
Mustafiz published the picture on his official page on the social media Facebook with the best ODI and T20 cap of the year. He is seen very smiling in the picture.
The player's cap reads 'ICC Team of the Year 2021'. It can be seen in the picture, Mustafiz has given the best ODI cap of the year. Besides, the T20 cap can be seen in his hand.
Captioning the picture, Mustafiz wrote,
"Alhamdulillah. Finally the most precious things are here now."
Earlier, Mushfiqur received the cap sent by ICC for being the best player of the year in ODIs on July 28.
It should be noted that Mustafiz played 10 ODIs for Bangladesh last year. He took a total of 18 wickets at an average of 20.55. On the other hand, Mustafiz played 20 T20 matches and bagged 28 wickets. Where the bowling average is 17. 39. As a result, Mustafiz got a place in the best ODI and T20 team of the year.
After debuting in the Bangladesh team, the responsibility of pace attack is on his shoulders. Although he lost a bit of form at times, he did not do badly in the tour of Zimbabwe. The Asia Cup could be a litmus test for Fizz.
Bangladesh Test and Twenty20 captain Shakib Al Hasan and wicketkeeper-batsman Liton Das will play for Kolkata Knight Riders (KKR) in the upcoming edition of the Indian Premier League (IPL) after being picked by the franchise in the mini-auction held in Kochi, India on Friday.
Liton was picked by KKR for his base price of Rupees five million in the accelerated auction after going unpicked in the first round.
Shakib is set to begin his third stint with KKR, after being picked up by the franchise for his base price of Rupees 15 million in the final accelerated auction of the day.
Shakib had begun his IPL journey with KKR way back in 2011, stayed with the franchise till 2017, winning two championship titles in 2012 and 2014 respectively.
In 2018, he was picked by Sunrisers Hyderabad at the auction and played there for two seasons.