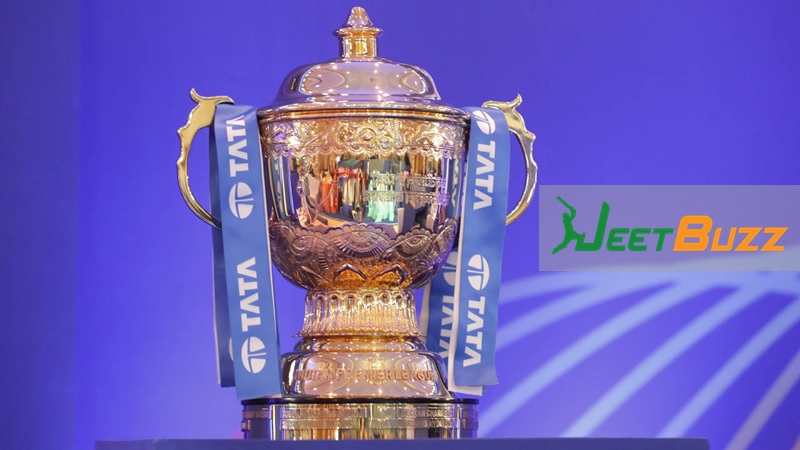 JeetBuzz | Latest IPL 2022 Points Table
JeetBuzz has kept track of the IPL 2022 points table and the winners and runners-up from 2008 to 2022. The Indian Premier League is one of the richest and most well-known domestic cricket leagues in the world.
The 15th season of the Indian Premier League would be played in a bio-secure environment at a single hub to minimise air travel, which is a significant risk for spreading COVID-19 infection, harming players and the League. The competition will start on March 26, 2022, with the final taking place on May 29, 2022. A total of 70 league matches will be contested over four international grade stadiums in Mumbai and Pune. The playoff venue will be determined later.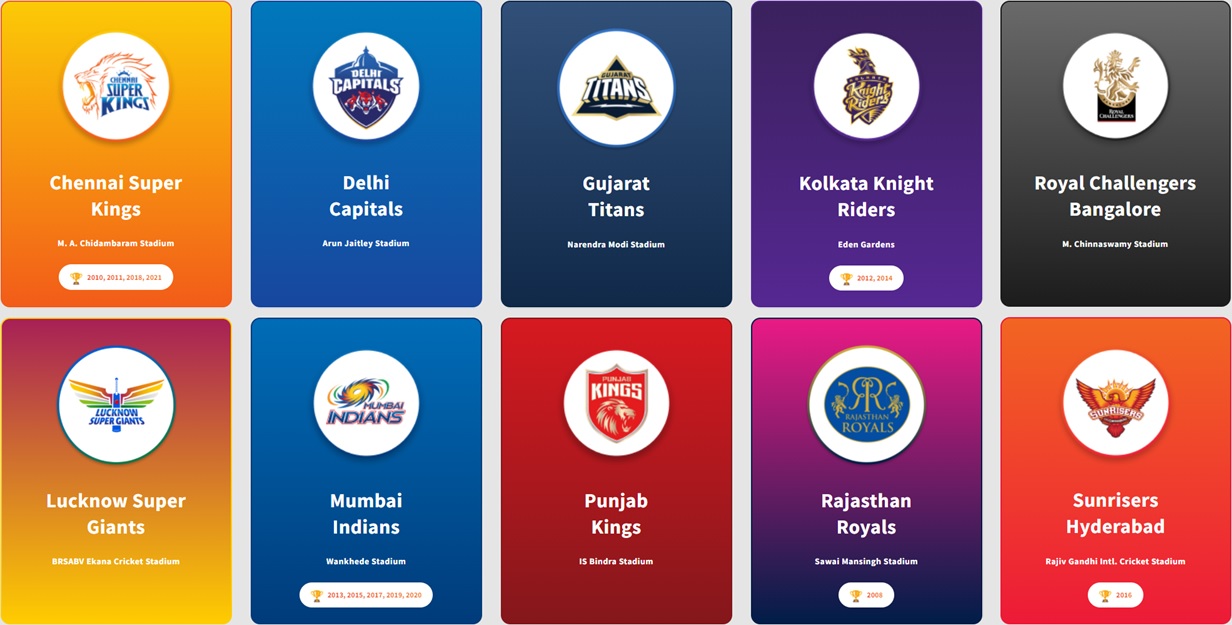 Chennai Super Kings (CSK), Delhi Capitals (DC), Kolkata Knight Riders (KKR), Mumbai Indians (MI), Punjab Kings (PK), Rajasthan Royals (RR), Royal Challengers Bangalore (RCB), Sunrisers Hyderabad (SRH), and two new teams, Gujarat Titans (GT) and Lucknow Super Giants (LSG), will compete in the IPL 2022. After completing the IPL 2022 Mega auction, each club will compete for the coveted trophy in one home and one away.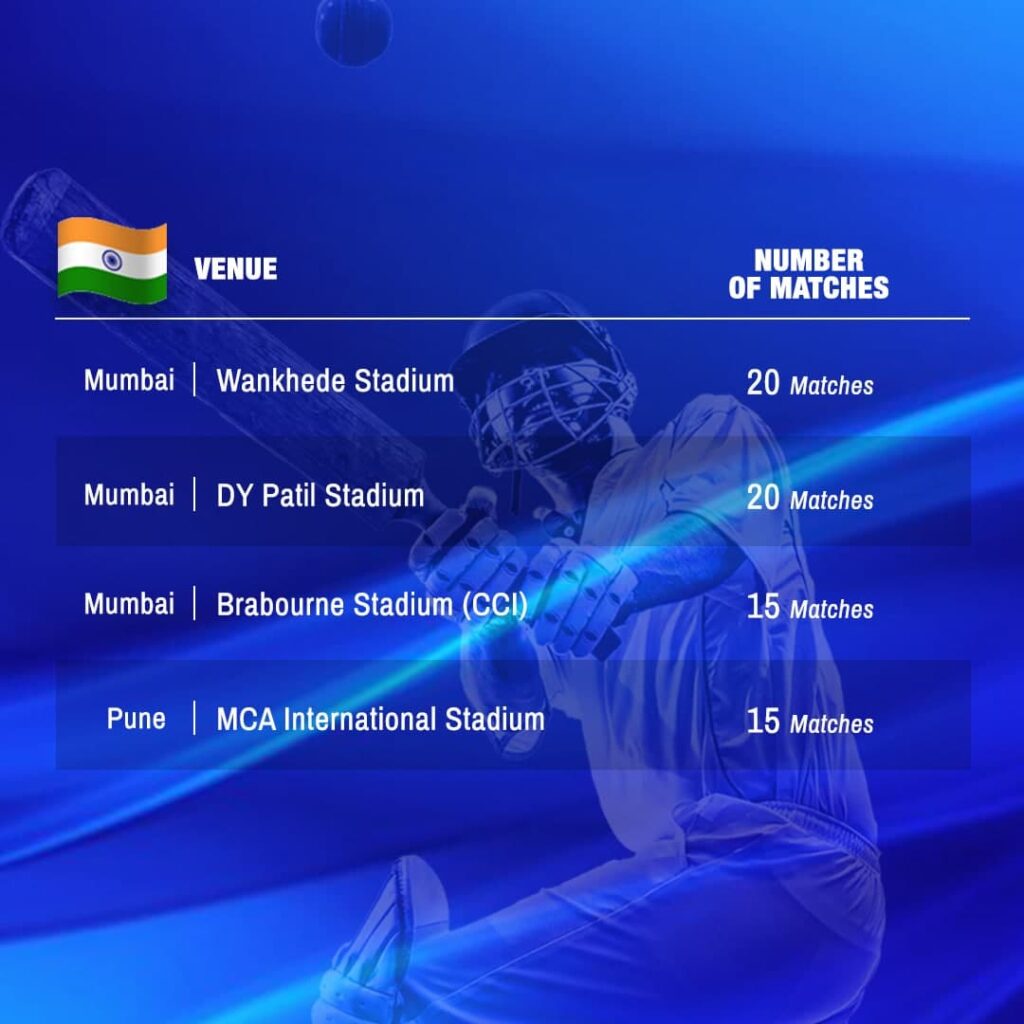 Each team will play:
4 matches at Wankhade Stadium 

4 matches at DY Patil Stadium

3 matches at Brabourne Stadium (CCI)

3 matches at MCA International Stadium
The 10 teams will compete in 14 league matches (7 home and 7 away) for a total of 70 games in the group stage, followed by 4 playoff matches. Five teams will be played twice by each side, while the remaining four teams will only be played once (2 home and 2 away). 
The following is a list of the teams who have won the IPL and the number of times each of them has played a final match: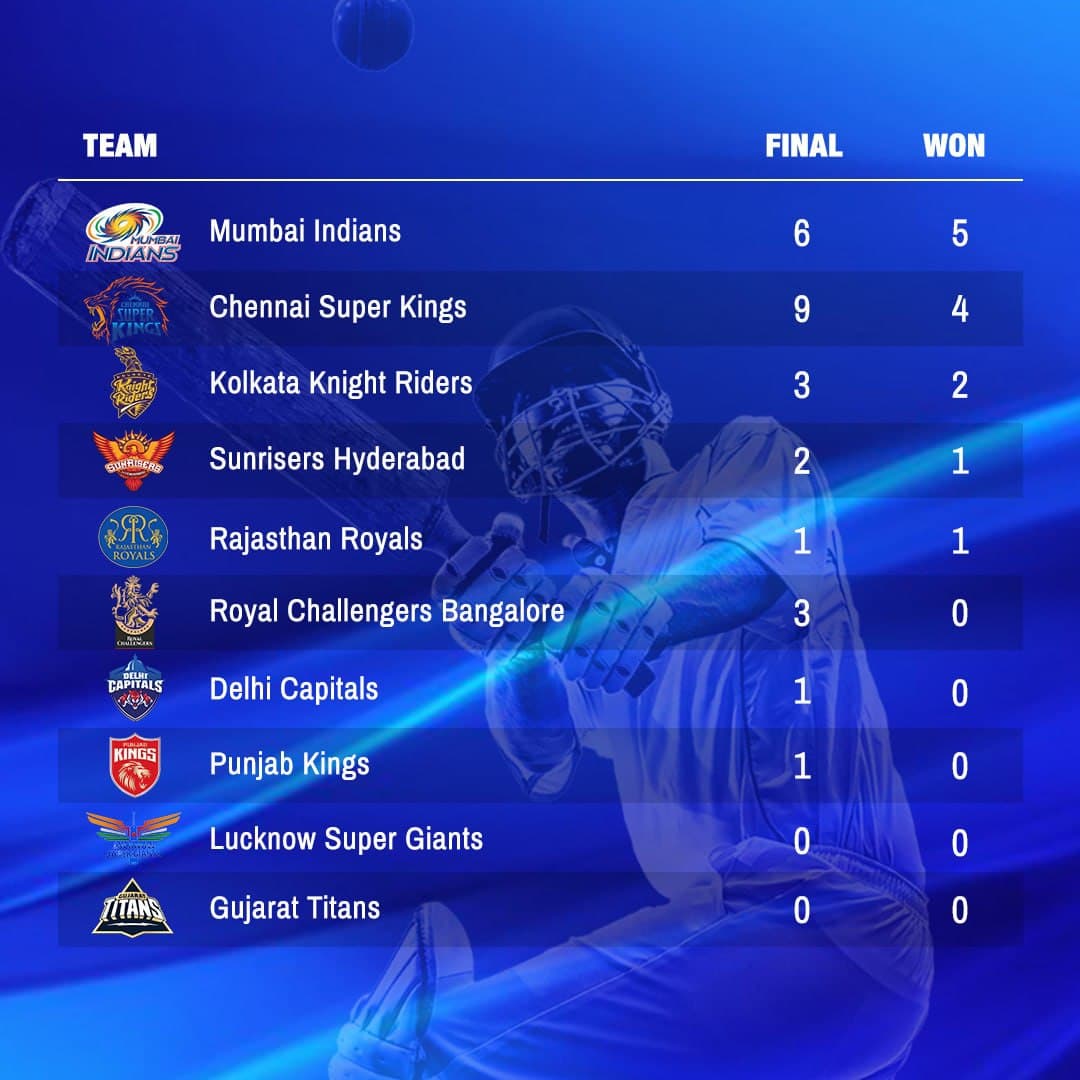 IPL 2022 Points Table Rules
The team will receive two points for a win and one point for a washout during the league stage.
The winning team receives 2 points for a win.

Each side will be awarded 1 point if the match is abandoned or ended prematurely or there is no result.

The losing team receives 0 points.
The following will be considered in a tie.
A team having a higher point total.

The team with the most wins will be considered if the points are tied.

If the points are still equal, the nett run rate is calculated.

If there is still a tie, the team with the lower bowling strike rate will be considered.

If there is still equality, a head-to-head meeting occurs.
IPL Points Table from 2008 – 2022
IPL 2022 Points Table
After each league match, the IPL 2022 points table will be updated with the latest Net Run Rate. The regulations for the points table are listed below the table:
| | | | | | | | |
| --- | --- | --- | --- | --- | --- | --- | --- |
| Teams | Match | Won | Lost | Tied | NR | Pts | NRR |
| Chennai Super Kings | 0 | 0 | 0 | 0 | 0 | 0 | 0 |
| Delhi Capitals | 0 | 0 | 0 | 0 | 0 | 0 | 0 |
| Royal Challengers Bangalore | 0 | 0 | 0 | 0 | 0 | 0 | 0 |
| Kolkata Knight Riders | 0 | 0 | 0 | 0 | 0 | 0 | 0 |
| Mumbai Indians | 0 | 0 | 0 | 0 | 0 | 0 | 0 |
| Punjab Kings | 0 | 0 | 0 | 0 | 0 | 0 | 0 |
| Rajasthan Royals | 0 | 0 | 0 | 0 | 0 | 0 | 0 |
| Sunrisers Hyderabad | 0 | 0 | 0 | 0 | 0 | 0 | 0 |
| Lucknow Super Giants | 0 | 0 | 0 | 0 | 0 | 0 | 0 |
| Gujarat Titans | 0 | 0 | 0 | 0 | 0 | 0 | 0 |
---

IPL 2022 Points Table – Group A
| | | | | | | | |
| --- | --- | --- | --- | --- | --- | --- | --- |
| Teams | Match | Won | Lost | Tied | NR | Pts | NRR |
| Mumbai Indians | 0 | 0 | 0 | 0 | 0 | 0 | 0 |
| Kolkata Knight Riders | 0 | 0 | 0 | 0 | 0 | 0 | 0 |
| Rajasthan Royals | 0 | 0 | 0 | 0 | 0 | 0 | 0 |
| Delhi Capitals | 0 | 0 | 0 | 0 | 0 | 0 | 0 |
| Lucknow Super Giants | 0 | 0 | 0 | 0 | 0 | 0 | 0 |
---
IPL 2022 Points Table – Group B
| | | | | | | | |
| --- | --- | --- | --- | --- | --- | --- | --- |
| Teams | Match | Won | Lost | Tied | NR | Pts | NRR |
| Chennai Super Kings | 0 | 0 | 0 | 0 | 0 | 0 | 0 |
| Sunrisers Hyderabad | 0 | 0 | 0 | 0 | 0 | 0 | 0 |
| Royal Challengers Bangalore | 0 | 0 | 0 | 0 | 0 | 0 | 0 |
| Punjab Kings | 0 | 0 | 0 | 0 | 0 | 0 | 0 |
| Gujarat Titans | 0 | 0 | 0 | 0 | 0 | 0 | 0 |
---
IPL 2021 Points Table 
| | | | | | | | |
| --- | --- | --- | --- | --- | --- | --- | --- |
| Teams | Match | Won | Lost | Tied | NR | Pts | NRR |
| Delhi Capitals | 14 | 10 | 4 | 0 | 0 | 20 | 0.481 |
| Chennai Super Kings(C) | 14 | 9 | 5 | 0 | 0 | 18 | 0.455 |
| Royal Challengers Bangalore | 14 | 9 | 5 | 0 | 0 | 18 | -0.14 |
| Kolkata Knight Riders(R) | 14 | 7 | 7 | 0 | 0 | 14 | 0.587 |
| Mumbai Indians | 14 | 7 | 7 | 0 | 0 | 14 | 0.116 |
| Punjab Kings | 14 | 6 | 8 | 0 | 0 | 12 | -0.001 |
| Rajasthan Royals | 14 | 5 | 9 | 0 | 0 | 10 | -0.993 |
| Sunrisers Hyderabad | 14 | 3 | 11 | 0 | 0 | 6 | -0.545 |
---

IPL 2020 Points Table 
| | | | | | | |
| --- | --- | --- | --- | --- | --- | --- |
| Teams | Match | Won | Lost | NR | Pts | NRR |
| Mumbai Indians(C) | 14 | 9 | 5 | 0 | 18 | 1.107 |
| Delhi Capitals(R) | 14 | 8 | 6 | 0 | 16 | -0.109 |
| Sunrisers Hyderabad | 14 | 7 | 7 | 0 | 14 | 0.608 |
| Royal Challengers Bangalore | 14 | 7 | 7 | 0 | 14 | -0.172 |
| Kolkata Knight Riders | 14 | 7 | 7 | 0 | 14 | -0.214 |
| Kings XI Punjab | 14 | 6 | 8 | 0 | 12 | -0.162 |
| Chennai Super Kings | 14 | 6 | 8 | 0 | 12 | -0.455 |
| Rajasthan Royals | 14 | 6 | 8 | 0 | 12 | -0.569 |
---
IPL 2019 Points Table 
| | | | | | | |
| --- | --- | --- | --- | --- | --- | --- |
| Team | Match | Win | Loss | NR | Pts | NRR |
| Mumbai Indians (C) | 14 | 9 | 5 | 0 | 18 | 0.421 |
| Chennai Super Kings (R) | 14 | 9 | 5 | 0 | 18 | 0.131 |
| Delhi Capitals | 14 | 9 | 5 | 0 | 18 | 0.044 |
| Sunrisers Hyderabad | 14 | 6 | 8 | 0 | 12 | 0.577 |
| Kolkata Knight Riders | 14 | 6 | 8 | 0 | 12 | 0.028 |
| Kings XI Punjab | 14 | 6 | 8 | 0 | 12 | –0.251 |
| Rajasthan Royals | 14 | 5 | 8 | 1 | 11 | –0.449 |
| Royal Challengers Bangalore | 14 | 5 | 8 | 1 | 11 | –0.607 |
---
IPL 2018 Points Table 
| | | | | | | |
| --- | --- | --- | --- | --- | --- | --- |
| Teams | Match | Win | Loss | NR | PTS | NRR |
| Sunrisers Hyderabad | 14 | 9 | 5 | 0 | 18 | 0.284 |
| Chennai Super Kings | 14 | 9 | 5 | 0 | 18 | 0.253 |
| Kolkata Knight Riders | 14 | 8 | 6 | 0 | 16 | -0.07 |
| Rajasthan Royals | 14 | 7 | 7 | 0 | 14 | -0.25 |
| Mumbai Indians | 14 | 6 | 8 | 0 | 12 | 0.317 |
| Royal Challengers Bangalore | 14 | 6 | 8 | 0 | 12 | 0.129 |
| Kings XI Punjab | 14 | 6 | 8 | 0 | 12 | -0.502 |
| Delhi Daredevils | 14 | 5 | 9 | 0 | 10 | -0.222 |
---
IPL 2017 Points Table 
| | | | | | | |
| --- | --- | --- | --- | --- | --- | --- |
| Teams | Match | Win | Loss | NR | PTS | NRR |
| Mumbai Indians (C) | 14 | 10 | 4 | 0 | 20 | 0.784 |
| Rising Pune Supergiant (R) | 14 | 9 | 5 | 0 | 18 | 0.176 |
| Sunrisers Hyderabad | 14 | 8 | 5 | 1 | 17 | 0.599 |
| Kolkata Knight Riders | 14 | 8 | 6 | 0 | 16 | 0.641 |
| Kings XI Punjab | 14 | 7 | 7 | 0 | 14 | –0.009 |
| Delhi Daredevils | 14 | 6 | 8 | 0 | 12 | −0.512 |
| Gujarat Lions | 14 | 4 | 10 | 0 | 8 | −0.412 |
| Royal Challengers Bangalore | 14 | 3 | 10 | 1 | 7 | −1.299 |
---
IPL 2016 Points Table 
| | | | | | | |
| --- | --- | --- | --- | --- | --- | --- |
| Teams | Match | Win | Loss | NR | PTS | NRR |
| Gujarat Lions | 14 | 9 | 5 | 0 | 18 | -0.374 |
| Royal Challengers Bangalore (R) | 14 | 8 | 6 | 0 | 16 | 0.932 |
| Sunrisers Hyderabad (C) | 14 | 8 | 6 | 0 | 16 | 0.245 |
| Kolkata Knight Riders | 14 | 8 | 6 | 0 | 16 | 0.106 |
| Mumbai Indians | 14 | 7 | 7 | 0 | 14 | -0.146 |
| Delhi Daredevils | 14 | 7 | 7 | 0 | 14 | -0.155 |
| Rising Pune Supergiants | 14 | 5 | 9 | 0 | 10 | 0.015 |
| Kings XI Punjab | 14 | 4 | 10 | 0 | 8 | -0.646 |
---
IPL 2015 Points Table 
| | | | | | | |
| --- | --- | --- | --- | --- | --- | --- |
| Teams | Match | Win | Loss | NR | PTS | NRR |
| Chennai Super Kings (R) | 14 | 9 | 5 | 0 | 18 | 0.709 |
| Mumbai Indians (C) | 14 | 8 | 6 | 0 | 16 | −0.043 |
| Royal Challengers Bangalore | 14 | 7 | 5 | 2 | 16 | 1.037 |
| Rajasthan Royals | 14 | 7 | 5 | 2 | 16 | 0.062 |
| Kolkata Knight Riders | 14 | 7 | 6 | 1 | 15 | 0.253 |
| Sunrisers Hyderabad | 14 | 7 | 7 | 0 | 14 | −0.239 |
| Delhi Daredevils | 14 | 5 | 8 | 1 | 11 | −0.049 |
| Kings XI Punjab | 14 | 3 | 11 | 0 | 6 | −1.436 |
---
IPL 2014 Points Table 
| | | | | | | |
| --- | --- | --- | --- | --- | --- | --- |
| Teams | Match | Win | Loss | NR | PTS | NRR |
| Kings XI Punjab (R) | 14 | 11 | 3 | 0 | 22 | 0.968 |
| Kolkata Knight Riders (C) | 14 | 9 | 5 | 0 | 18 | 0.418 |
| Chennai Super Kings | 14 | 9 | 5 | 0 | 18 | 0.385 |
| Mumbai Indians | 14 | 7 | 7 | 0 | 14 | 0.095 |
| Rajasthan Royals | 14 | 7 | 7 | 0 | 14 | 0.06 |
| Sunrisers Hyderabad | 14 | 6 | 8 | 0 | 12 | -0.399 |
| Royal Challengers Bangalore | 14 | 5 | 9 | 0 | 10 | -0.428 |
| Delhi Daredevils | 14 | 2 | 12 | 0 | 4 | -1.182 |
---
IPL 2013 Points Table 
| | | | | | | |
| --- | --- | --- | --- | --- | --- | --- |
| Teams | Match | Win | Loss | NR | PTS | NRR |
| Chennai Super Kings (R) | 16 | 11 | 5 | 0 | 22 | 0.53 |
| Mumbai Indians (C) | 16 | 11 | 5 | 0 | 22 | 0.441 |
| Rajasthan Royals | 16 | 10 | 6 | 0 | 20 | 0.322 |
| Sunrisers Hyderabad | 16 | 10 | 6 | 0 | 20 | 0.003 |
| Royal Challengers Bangalore | 16 | 9 | 7 | 0 | 18 | 0.457 |
| Kings XI Punjab | 16 | 8 | 8 | 0 | 16 | 0.226 |
| Kolkata Knight Riders | 16 | 6 | 10 | 0 | 12 | −0.065 |
| Pune Warriors India | 16 | 4 | 12 | 0 | 8 | −1.006 |
| Delhi Daredevils | 16 | 3 | 13 | 0 | 6 | −0.848 |
---
IPL 2012 Points Table 
| | | | | | | |
| --- | --- | --- | --- | --- | --- | --- |
| Teams | Match | Win | Loss | NR | PTS | NRR |
| Delhi Daredevils | 16 | 11 | 5 | 0 | 22 | 0.617 |
| Kolkata Knight Riders (C) | 16 | 10 | 5 | 1 | 21 | 0.561 |
| Mumbai Indians | 16 | 10 | 6 | 0 | 20 | −0.100 |
| Chennai Super Kings (R) | 16 | 8 | 7 | 1 | 17 | 0.1 |
| Royal Challengers Bangalore | 16 | 8 | 7 | 1 | 17 | −0.022 |
| Kings XI Punjab | 16 | 8 | 8 | 0 | 16 | −0.216 |
| Rajasthan Royals | 16 | 7 | 9 | 0 | 14 | 0.201 |
| Deccan Chargers | 16 | 4 | 11 | 1 | 9 | −0.509 |
| Pune Warriors India | 16 | 4 | 12 | 0 | 8 | −0.551 |
---
IPL 2011 Points Table
| | | | | | | |
| --- | --- | --- | --- | --- | --- | --- |
| Teams | Match | Win | Loss | NR | PTS | NRR |
| Royal Challengers Bangalore (R) | B | 9 | 4 | 1 | 19 | 0.326 |
| Chennai Super Kings (C) | B | 9 | 5 | 0 | 18 | 0.443 |
| Mumbai Indians | A | 9 | 5 | 0 | 18 | 0.04 |
| Kolkata Knight Riders | B | 8 | 6 | 0 | 16 | 0.433 |
| Kings XI Punjab | A | 7 | 7 | 0 | 14 | −0.051 |
| Rajasthan Royals | B | 6 | 7 | 1 | 13 | −0.691 |
| Deccan Chargers | A | 6 | 8 | 0 | 12 | 0.222 |
| Kochi Tuskers Kerala | B | 6 | 8 | 0 | 12 | −0.214 |
| Pune Warriors India | A | 4 | 9 | 1 | 9 | −0.134 |
| Delhi Daredevils | A | 4 | 9 | 1 | 9 | −0.448 |
---
IPL 2010 Points Table 
| | | | | | | |
| --- | --- | --- | --- | --- | --- | --- |
| Teams | Match | Win | Loss | NR | PTS | NRR |
| Mumbai Indians (R) | 14 | 10 | 4 | 0 | 20 | 1.084 |
| Deccan Chargers | 14 | 8 | 6 | 0 | 16 | −0.297 |
| Chennai Super Kings (C) | 14 | 7 | 7 | 0 | 14 | 0.274 |
| Royal Challengers Bangalore | 14 | 7 | 7 | 0 | 14 | 0.219 |
| Delhi Daredevils | 14 | 7 | 7 | 0 | 14 | 0.021 |
| Kolkata Knight Riders | 14 | 7 | 7 | 0 | 14 | −0.341 |
| Rajasthan Royals | 14 | 6 | 8 | 0 | 12 | −0.514 |
| Kings XI Punjab | 14 | 4 | 10 | 0 | 8 | −0.478 |
---
IPL 2009 Points Table 
| | | | | | | |
| --- | --- | --- | --- | --- | --- | --- |
| Teams | Match | Win | Loss | NR | PTS | NRR |
| Delhi Daredevils | 14 | 10 | 4 | 0 | 20 | 0.311 |
| Chennai Super Kings | 14 | 8 | 5 | 1 | 17 | 0.951 |
| Royal Challengers Bangalore (R) | 14 | 8 | 6 | 0 | 16 | −0.191 |
| Deccan Chargers (C) | 14 | 7 | 7 | 0 | 14 | 0.203 |
| Kings XI Punjab | 14 | 7 | 7 | 0 | 14 | -0.483 |
| Rajasthan Royals | 14 | 6 | 7 | 1 | 13 | −0.352 |
| Mumbai Indians | 14 | 5 | 8 | 1 | 11 | 0.297 |
| Kolkata Knight Riders | 14 | 3 | 10 | 1 | 7 | −0.789 |
---
IPL 2008 Points Table 
| | | | | | | |
| --- | --- | --- | --- | --- | --- | --- |
| Teams | Match | Win | Loss | NR | PTS | NRR |
| Rajasthan Royals (C) | 14 | 11 | 3 | 0 | 22 | 0.632 |
| Kings XI Punjab | 14 | 10 | 4 | 0 | 20 | 0.509 |
| Chennai Super Kings (R) | 14 | 8 | 6 | 0 | 16 | −0.192 |
| Delhi Daredevils | 14 | 7 | 6 | 1 | 15 | 0.342 |
| Mumbai Indians | 14 | 7 | 7 | 0 | 14 | 0.57 |
| Kolkata Knight Riders | 14 | 6 | 7 | 1 | 13 | −0.147 |
| Royal Challengers Bangalore | 14 | 4 | 10 | 0 | 8 | −1.161 |
| Deccan Chargers | 14 | 2 | 12 | 0 | 4 | −0.467 |