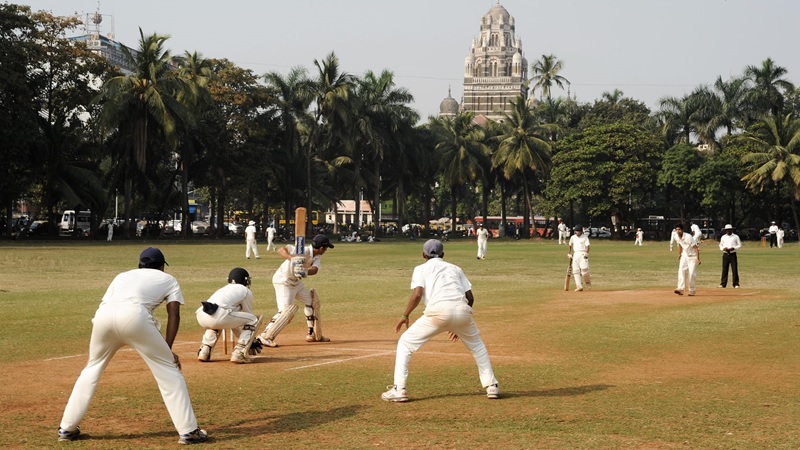 Cricket has emerged as a new platform for liberals to promote their anti-Hindu agenda
The liberal world's predisposition towards anti-Hindu sentiment is unmistakable, and supporters of this ideology continue to spread Hindu hatred in whichever domain they see fit. Cricket, the most popular and ferocious sport in India, has become the newest target of liberals, and it's the awful new arena into which Hinduphobia has been injected.
In recent years, the way incidents in cricket have been portrayed in the media and the sports world has revealed a surge in anti-Hindu sentiment in society. Several international cricket commentators and journalists have openly praised this polluting of India's most popular and beloved sports.
T20 Cricket incident shows 
India's western image in terms of tolerance is low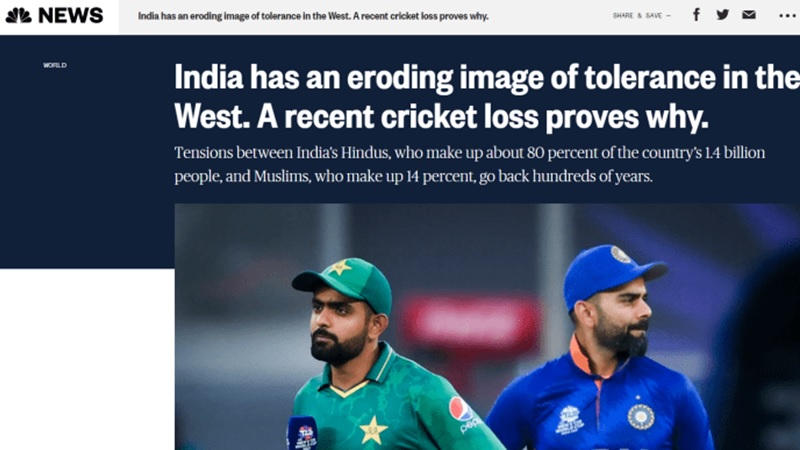 Although many news organisations have been doing it for a long time, recent cricket commentary writing and reporting trends point to troubling themes. According to a report released on CNBC in November 2021, India's western image in terms of tolerance is low. The author of the article, Ananta Agarwal, based his conclusion on the T20 World Cup encounter between India and Pakistan, which Pakistan won in October 2021.
He wrote that "ethnoreligious tensions boiled over" in the country due to the match. He went on to say that some Kashmiri students were suspended, arrested, and charged with sedition after cheering on Pakistan's triumph on social media.
Contrary to Ananta's assertion, there were no religious clashes following India's defeat in the match. Indians were disappointed by the team's overall performance rather than any particular player. The public reports that Indian pacer Mohammad Shami was mocked to be false and unsubstantiated. Pakistani social media bots nurtured the entire story of Shami's abuse in India, which was then amplified by the Indian leftist ecosystem.
Second, it was never because Kashmiri students were celebrating Pakistan's victory in the match that they were suspended and charged with sedition. They were detained because they shouted anti-national slogans and chanting to support Pakistan-sponsored terrorism in India.
Ananta also promoted Hindu nationalism by referring to Prime Minister Narendra Modi as a Hindu Nationalist leader. He vehemently quoted Nikhil Mandalaparthy, who claimed that Hindutva is an "exclusionary political ideology" based on a concept of Hindu identity as "North Indian, upper caste, and patriarchal."
Referencing anyone and drawing inferences about Indian culture under the pretext of a sport like cricket is a remarkable attempt to serve the liberal cause of defaming India and Hinduism. Still, Nikhil's ideas are unfounded and contradictory to the current state of India. Labelling Prime Minister Modi a Hindu Nationalist leader would also be counterproductive. PM Modi is a Hindu and an outspoken Nationalist, widely known and acknowledged. His nationalistic ideas have propelled India forwards on the road to progress and international acclaim.
The fading image of India as a land of tolerance is a fabrication of Western imagination with no basis in reality. Attempts to portray Hindus as intolerant and minorities, particularly Muslims, as oppressed are a fallacy that only a few ardent liberals believe.
Wisden India are full of anti-Hindu Journalists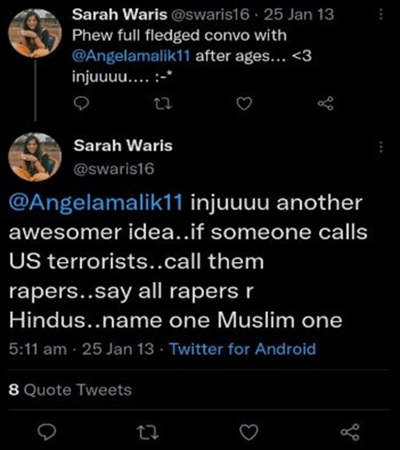 Many journalists at Wisden India, a well-known platform among cricket enthusiasts, are not afraid to wear their anti-Hindu views on their sleeves. Many reporters and news writers have openly attacked Hindus on social media and elsewhere, and Sarah Waris is one of them.
Sarah's work has appeared in The Quint and NDTV, among other well-known left-liberal publications. In a 2013 tweet, Sarah referred to Hindus as rapists, which has since been deleted.
Her tweet demonstrates her hatred towards Hindus. They vilify Hindus and praise foreign athletes while disparaging Indian athletes. Last year, Sunil Gavaskar, a former Indian cricketer, slammed the portal for favouring white English cricketers.
Wisden has a history of making derogatory comments against Indians. A veteran Wisden editor, David Frith, wrote an op-ed opposing India's participation in the 1983 World Cup due to their poor record.
'The Australian' spread anti-India propaganda on cricket
On February 19, 2021, journalist Gideon Haigh wrote a column for The Australian's Cricket section to deceive its predominantly Australian audience. In his 1000-word piece titled 'Ugly tendency that can taint Indian cricket,' Haigh touched on various topics and offered his prejudiced and constrained view of complex situations as 'oversimplified facts.' He talked about the farm demonstrations, partisan appointments to the BCCI, India's ostensibly dwindling space for criticism, Rihanna, and other issues.
The dispute is based on Wasim Jaffer's religious identification, who was in the spotlight for allegedly favouring Muslim players in the team during his time as the coach of the Uttarakhand team.
He further alleged that the BJP engages in nasty internet harassment of liberal celebrities, independent journalists, and academics who disagree. He went on to say that Modi's myrmidons have somehow infiltrated India's cricket board. This is even though the BCCI President has always been a political appointee in the form of Rajiv Shukla and Sharad Pawar, unlike currently, when an actual cricketer holds the coveted position in the form of Saurav Ganguly. He claimed they echoed the BJP's talking points when Sachin Tendulkar, Virat Kohli, Rahane, and Rohit Sharma came out to support the hashtag #IndiaAgainstPropaganda.
India Cricket work for Hindu Nationalism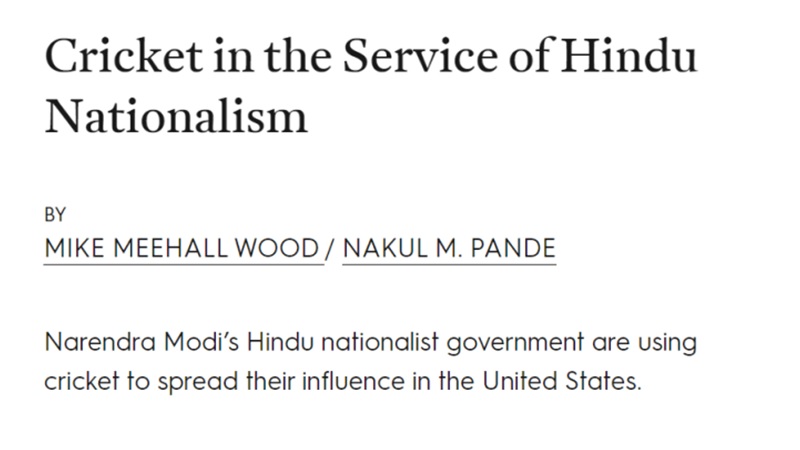 Jacobin is a communist publication that provides political, economic, and cultural writings. On August 4 of this year, an article titled "Cricket in the Service of Hindu Nationalism" was published.
The Indian cricket team's 2019 trip to the United States, according to the report, was an attempt by Narendra Modi's allegedly Hindu Nationalist administration to enhance its influence in the United States. "The Modi government sees the Indian cricket team as their biggest PR weapon, and the Board of Control for Cricket in India (BCCI), the country's governing body, as just another instrument to be managed," according to the article.
"The players, too, have lined up behind the prime minister," it said, implying that the players were biassed. "When Modi was re-elected in May, a slew of Indian cricket luminaries tweeted their support – inconspicuously identical language, with patriotic cliches like "new India" and "higher heights" appearing across multiple players' tweets," the publication continued.
The report appears to have only one goal: to indicate that the tournament is being held under the control of the Modi government and to support the government's policies. According to the report, cricket has been influenced by "Hindu Nationalism," which is openly accepted by everyone, even cricketers.
Forcing anti-Hindu propaganda in Cricket
The steadfast determination of writers and commentators like Nakul Pande and Sarah Waris to paint Indians, particularly Hindus, in a negative light may be gauged by their writings and social media posts.
Liberals have now picked cricket to insult Hindus and play their anti-Hindu card. Because it is a popular game among Indians worldwide, it is easier for them to spread hatred publicly.
Even though such nefarious propaganda would not change India's foreign image, it is becoming evident that the anti-India liberal gang is carefully engaged in selling their anti-Hindu hatred and will stop at nothing to achieve their nefarious goal.