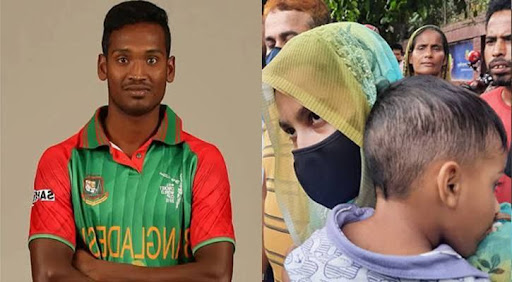 Arrest warrant issued against cricketer Al Amin
Arrest warrant issued against cricketer Al Amin
Recently, the news of his wife's divorce with Bangladesh cricket pace bowler Al Amin came out.
However, an arrest warrant has been issued against this Tiger cricketer as he did not appear in court on time in the case filed by his wife.
Additional Metropolitan Magistrate of Dhaka Tofazzal Hossain gave this order.
After that, there created hue and cry again in Bangladesh cricket. Many of the supporters of Team Bangladesh think that Al Amin's incident has ruined the country's cricket image. However, Al Amin has not yet responded to this issue.
His wife Israt Jahan filed a case against Al Amin alleging torture of women for demanding dowry. On September 1, Israt filed a case under two different allegations. The court then accepted the statement of the plaintiff and ordered the defendant to appear in court on September 12. But Al Amin did not appear there. Another arrest warrant was issued against him for disobeying the law.
Israt took legal action last month on allegations of torture against women for demanding dowry. On September 27, she filed a lawsuit demanding cohabitation, maintenance and child support. There, Al Amin surrendered to the court and applied for bail. He was granted bail till October 6.
Appearing in the court on October 6, the cricketer also said that he divorced his wife on August 25 due to marital bitterness and immorality. According to the information provided by his wife, Al Amin did not contact them for a long time and did not take responsibility for maintenance.
Earlier this cricketer's wife organized human chained in front of the Bangladesh Cricket Board demanding the punishment of Al Amin. Al Amin's wife also accused Al Amin of second marriage. On the other hand, this cricketer complained about multiple men's relationship with his wife. However, Ishrat dismissed the allegation as baseless. Cricket scores: here.
Al Amin is known as the bad boy of cricket in the country. In 2015, he was sent back to the country for breaching party discipline during the World Cup. This pacer has been out of the national team for a long time. There is notable performance in the domestic league. Then one after other allegations against him. Many people think that the Al Amin chapter in the country's cricket is kind of over.