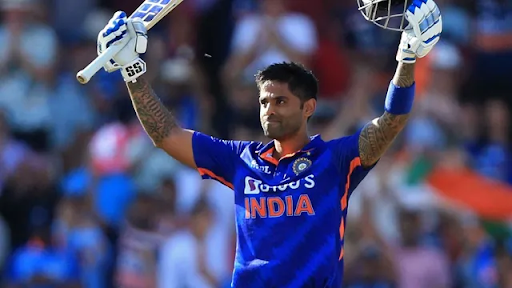 Surya Kumar Yadav surpassed Babar Azam in the T20 rankings
Surya Kumar Yadav surpassed Babar Azam in the T20 rankings
Pakistan captain Babar Azam has lost his rhythm since the last Asia Cup. His bat didn't smile. Even in the first match against England at home, big runs did not come with the bat. So, he has fallen behind in terms of runs. Having already lost the top spot to his teammate Mohammad Rizwan, this Pak star fell behind the Indian batsman.
In the latest T20 batting rankings released by the ICC, Babar has dropped from three to four. And India's hard-hitter batsman Surya Kumar Yadav has come up at number three.
After the Asia Cup, Babar scored 31 runs in the first T20 against England at home. Where Surya Kumar Yadav scored 46 runs off 25 balls in the first T20 against Australia. Babar's losing rhythm and Surya Kumar Yadav's stormy innings left Babar behind.
However, another star of Pakistan Mohammad Rizwan has retained his place. He is at the top of the list as before with 825 points. He has got runs against England in T20 at home. Scored 68 runs with the bat. Aiden Markram of South Africa is at number two in the list.
However, after the publication of this list of ICC rankings, Babar scored a century in the second T20I against England. Played a stormy innings of 110 runs unbeaten off 66 balls. Let's see where the Pakistan captain goes in the next ICC rankings.