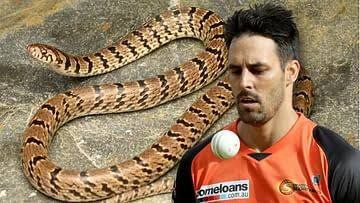 Mitchell Johnson found snake in the hotel room in India
Mitchell Johnson found snake in the hotel room in India
Former Australian cricketers have come to India to play Legends Cricket League. Former Australian pacer Mitchell Johnson is also among them. Currently he is in Kolkata. And here he faced a terrible experience. He found a snake in his hotel room! He confirmed this himself.
He shared the incident on his Instagram. Wanted to know what kind of snake it is sharing a picture of the snake. " Anyone know what type of snake this is?? Just hanging out in my room door," he captioned it.
Johnson came to India to play Legends Cricket League. Johnson is playing for India Capitals in this league. And this pacer faced snake when he comes to play. Johnson's post went viral instantly.
However, Johnson did not say anything about where the snake was. After many days, his bowling did not get rusty even after coming to the field. In the first match, he got wicket at the first ball. Johnsons could not win even though Virender Sehwag was dismissed at the first ball. Sehwag led Gujarat Giants won the match.
The 40-year-old former Left-arm pacer has played 73 Tests, 153 ODIs and 30 T20Is matches for Australia. However, winning the World Cup multiple times for the country is a major achievement in his career. Let's see how he does in this year's Legends Cricket League.