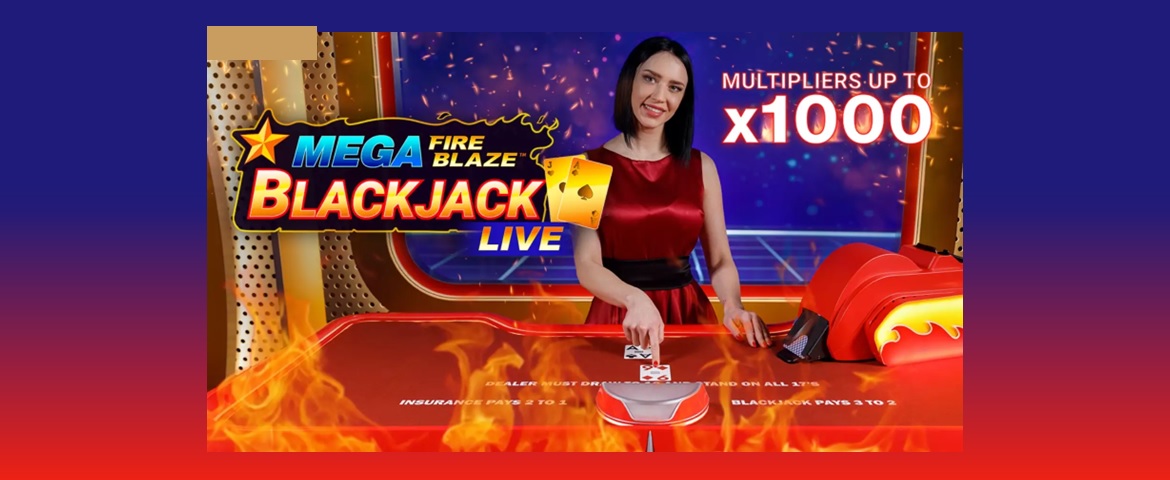 How to play Live Mega Fire Blaze Blackjack
Live Mega Fire Blaze Blackjack is a new live dealer blackjack game with special bonus mechanics released by Playtech in 2023. It offers a highly volatile experience, making it an exciting game for fans of live casino game shows. Here's a quick guide jotted down below for your advantages:
The Basics
The game consists of two hands with a one-to-many setup, meaning an unlimited number of players can join and play at the same time. The dealer's cards are shared among all players, but your decisions are separate from everyone else's. You can choose whether to Hit, Stand, Double, or Split regardless of what other players do.
The base game uses standard Vegas-style rules, with the dealer always standing on a soft 17 or above. You can double after a split, but you can't re-split. Insurance is also available in the case of a dealer named Ace, but it's not recommended.
Mega Fire Blaze Bonus
The Mega Fire Blaze Bonus is the game's special feature, which sets it apart from standard Playtech blackjack. To qualify for the bonus, you must place a bet, and only players who place a bet will take part in the bonus round if it triggers.
The bonus payouts depend on the size of the stake you use for the bonus bet, and the bets you used for the main blackjack bet are irrelevant. However, only players who have a main bet can place a bonus bet and participate in the round.
To trigger the bonus round, you need to win achievement points. These points are awarded for certain conditions, such as player hands with a total score of 14, dealer aces, and the number of cards in the dealer's hand at the end of the round. The more points you collect, the bigger the eventual bonus prize.
The bonus round is essentially a small slot game with three "spins," during which multipliers may randomly drop into one of the positions on the segments. If a multiplier sticks to a position, it stays there, and the number of spins resets to three. This continues until there are no more spins left or all positions are filled with multipliers.
The bonus payouts depend on the number of multipliers collected and the bonus level, which ranges from minor to mega. The highest bonus level offers a potential multiplier of up to 1,000x.
Side Bets
Aside from the Mega Fire Blaze Bonus, there are two standard side bets: 21+3 and Perfect Pairs. The 21+3 side bet is based on the player's first two cards and the dealer's face-up card and pays out for certain combinations, such as a flush or a straight. The Perfect Pairs side bet pays out for pairs in the player's first two cards, with a perfect pair (e.g., two Queens of Hearts) offering the highest payout.
Mega Fire Blaze Blackjack is an exciting new live dealer blackjack game that offers a unique and volatile bonus feature. The game is available on both desktop and mobile and has a minimum bet of $1 and a maximum wager of $2,000. If you're a fan of live casino game shows or just looking for something new and exciting to try, Mega Fire Blaze Blackjack is definitely worth a shot.