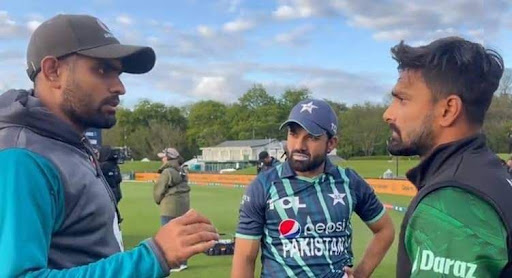 What tips did Babar-Rizwan give to Liton?
What tips did Babar-Rizwan give to Liton?
Bangladesh played the last match of the tri-nation series at Hagley Oval in Christchurch on Thursday. In that match, the Tigers have tasted defeat against Pakistan by 7 wickets. Bangladesh could not win any match in the tri-nation series. However, some cricketers were always brilliant in their individual performances.
Liton Kumar Das has also achieved success in this series with the bat. This hard- hitter batsman scored a half-century in the last match against Pakistan as well. He could not win the team despite playing an innings of 69 runs off 42 balls. But at the end of the match Liton got tips from two Pakistani batsmen Babar Azam and Mohammad Rizwan.
A video released by the Pakistan Cricket Board (PCB) after the match shows the conversation between Babar-Rizwan-Liton.
Where Rizwan said to Liton, "Press the restart button. You may score zero, 10 or even a century, but nothing is possible without hard work. If you do something different with your team, results might be different."
Every cricketer has bad times. Advising to stay mentally strong, Rizwan also said, "You get ready for one thing, which is that there will be 10 innings that will make you sweat. There will also be 10 innings where I can score 20 runs in 12 balls if needed. But the big player, due to their calmness, will be successful in six out of 10 innings."
Babar, one of the best batsmen of the time, spoke to Liton before Rizwan. His advice to the Bangladeshi batsmen is that no matter what the on-field performance is, don't listen to outsiders. According to him, listening to outsiders, whether good or bad, directly affects one's game.
Babar-Rizwan-Liton, these three is going to play the T20 World Cup. On the one hand Babar-Rizwan is the name of the main trust of Pakistan, so is Liton of Bangladesh. Liton has been spreading light with the bat throughout the year. He is after Babar in the list of runs this year. If Liton's bat smiles in the upcoming World Cup, Bangladesh will also smile.